Direct-to-consumer. A term that has been an important part of e-commerce for some time now. A real hype has arisen around the topic of DTC. But is the direct-to-consumer model the real deal? We say: believe the hype – DTC opens up completely new business opportunities.
Why is the topic of DTC so exciting right now?
Retail is in the midst of a digital (r)evolution. The traditional sales channels, such as brick-and-mortar retail, distribution via wholesalers, or catalogue sales, have been losing importance for years. Instead, more and more retailers are becoming successful platforms. They are growing disproportionately and now dominate the e-commerce market. If you take a look at the top 500 online stores in Germany in 2019, you can find many retailers with a platform or marketplace model. Among them, of course, big names such as Amazon, Otto or Zalando, but also niche platforms such as Douglas or limango. In response to this development, more and more new brands are emerging that are gearing their processes completely to direct-to-consumer and thus to the end consumer, whether via their own web store or marketplace.
A new way of thinking – How does direct-to-consumer work?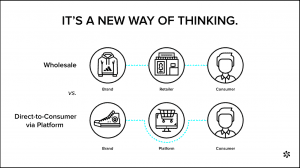 A brand sells its goods wholesale to a retailer, who then resells the products (online) to the end consumer. The merchandise risk lies with the retailer, and the brand loses most of the control of the customer approach. This is the traditional wholesale model. As a DTC brand, you communicate directly with the end customer and use the platform as a digital shop window and a multiplier for reach. With certain offers, the platform enables the brand to directly approach an already existing customer base and, on top of that, usually provides services such as marketing or logistics to interact even better and more effectively with the end consumer.
What are the advantages for the brand?
Data control: A DTC brand has full control over which product content is displayed to the customer and which products are sold at which retailer. In addition, the brand has an overview of all data and can analyse exactly which item was sold and when. This knowledge helps to make the business even more profitable.
Brand Relationship: Direct-to-consumer brands have full control over the relationship with the customer and can tailor their processes precisely to the needs of their target groups. The perception of the brand is up to the brand itself and dependencies on the retailer are reduced.
Stock ownership: Since this point naturally also involves a certain risk, one might think that it is more of a challenge than an advantage. However, it should not be forgotten that it is also possible to react spontaneously in this case. For example, goods can be divided among different retailers based on their availability or demand, and the selling price can be adjusted. A stock pool for all online activities facilitates reactions to traffic in one's own online store, or special sales campaigns on a marketplace.
Why do retailers become platforms in the first place?
Of course, the DTC business also has advantages for retailers compared to the classic wholesale model.
Availability: An almost infinite availability of products can be ensured, especially through back- and size filling of the connected DTC brands.
Scalability: Many retailers, such as Zalando or Amazon, now offer more than just a sales platform for retailers, e.g. logistics services, marketing services, etc. These services make it easier for many brands to sell via the platform, which means that the retailer automatically scales its own business further and further.
Product range expansion: The more partners are connected to a retailer, the larger and broader the product range becomes. Without having to invest in additional storage capacity or increase inventory risk.
Attractiveness: The high diversity of the product range increases customer commitment and satisfaction, which in turn makes the retailer even more attractive for additional brands.
Expand your sales network in no time with these tips
Platform business offers a win-win-win situation for end customers, brands and retailers. However, this requires brands to be digitally fit. These tips will help DTC brands scale their business:
Optimize product content: Product content, in the form of text, product data and images, is particularly important for successful product sales. Every retailer and every target group has different requirements for this content. You should be aware of this in advance.
Manage inventory information: If you want to scale on many retailers and in international markets, you have to manage your own inventory perfectly to avoid overselling.
The right price management: Not every product is suitable for sale on retailers. It is therefore especially important to define compatible products. Retailer commission, possible free shipping and return shipping, etc. must be taken into account. In addition, in order to participate in marketing-driven sales promotions, DTC brands should always remain flexible.
Organize DTC logistics: Those who already operate their own online store may already be used to shipping to customers themselves. However, many platforms also offer logistics services for their partners, e.g. Zalando Fulfillment Service. Basically, the following applies: It must be precisely evaluated in good time how this particularly important part of the DTC business is to be covered.
The right team: Unfortunately, this point is underestimated or not properly considered by many DTC newbies. Every second e-commerce euro is now spent on the platform business, so brands should also approach their business with enough expertise and a sufficiently large team.
Speed up your Business with Tradebyte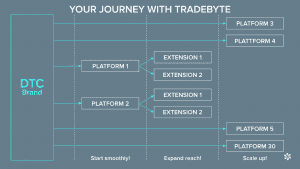 Tradebyte enables brands, retailers and manufacturers to enter the platform business quickly and easily. How exactly does this work? As a first step, the brand goes through the initial integration on a retailer of its choice. Subsequently, it is possible to easily expand into further »Market Extensions«, i.e. international channels of this retailer. This increases the reach in no time at all and tests new markets and target groups. To scale the business as quickly and successfully as possible, Tradebyte also recommends connecting additional retailers. One should not only focus on one or two platforms, but use the reach of the more than 100 retailers from the Tradebyte portfolio. Depending on the products offered, strong niche retailers such as Douglas or limango are particularly profitable sales channels. Tradebyte has already accompanied more than 700 brands and retailers on their way into the successful platform business. The broad retailer portfolio offers the right sales channels for every brand, manufacturer or retailer. With Tradebyte, every brand becomes fit in the »digital business« and conquers the retailer universe in no time.