With over 100 active partners, eBay is one of the top ten channels in the Tradebyte portfolio with the highest turnover. One of the reasons for this is that our customers have access to four international eBay channels: Germany, Austria, France and Great Britain. Tradebyte also supports a number of eBay marketing features such as Daily Deals, eBay Plus, Promoted Listing, Multi-Buy Promotions and PayPal.
Are you interested in an integration on eBay or in one of the marketing features? Maybe you would like to internationalize further? Then come to the eBay Open in Berlin! Tradebyte is on site as sponsor and our colleagues are looking forward to welcoming you at the Motorwerk in Berlin on 16th & 17th of September. Visit us at the Tradebyte booth and let us show you your possibilities on eBay in person.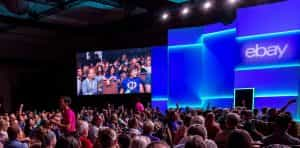 When: 16th & 17th of September 2019; Admission from 9 a.m.; Start 10 a.m.
Where: Motorwerk Berlin
Secure your tickets quickly here! At Tradebyte you get a 10% voucher on your ticket. Simply contact your Account Manager. But the number of vouchers is limited. First come first serve!