One thing is certain: the e-commerce industry loves networking! The round about 100 guests at the ECD Lunch premiere in Amsterdam have not stopped talking. And there was reason enough for that. Five of the highest-selling platform players in the Benelux market, Zalando, Bol, V & D, Wehkamp and About You, were guests and received brands and retailers for appointments. At times the volume of conversation in the meeting area reached party tent dimensions – the will to exchange and active matching did not detract from this.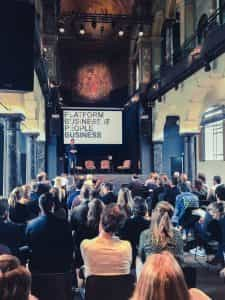 The ECD Lunch format thus picks up the DNA of the ECD Main Event. Platform Business is People Business – and people talk. The thematic framework for the intensively used meetings in Amsterdam was a wonderful presentation by Salesupply founder Henning Heesen about the special features of the Benelux market (and some German-Dutch clichés) as well as two panel discussions on the topics "Platform Business in Benelux – characteristics and opportunities" and "Cross-Border-Solutions: How to avoid showstoppers on the way from Germany to Benelux and back".
The ECD Lunch Benelux was a great success – the reactions of the guests have confirmed this impressively. The spectacular venue certainly contributed to this: the "Hotel Arena" is a former church that has been transformed into an event location with a hotel. This unique ambiance perfectly underlines the atmosphere of ECD Lunch. We look forward to a repeat next year – certainly back in the same place.