Once a year, the Tradebyte office turns into a playing field for software developers. Well, basically that's what it is all year round, but for the Global Game Jam we also open our doors for guests. So what is the Global Game Jam?
Every year in January, 47,000 participants from 113 countries meet to develop games on a given motto within 48 hours. Programming skills are not a pre-requisite, EACH and EVERY PERSON can take part, whether you're a designer, artist or gamer. Between jam sessions, the participants are catered for with delicious food. Thanks to sponsoring by partners and companies from the field, participation in the Global Game Jam at Tradebyte is free of charge. This year, the GGJ took place in the Tradebyte office for the third time from 25/01/2019 to 27/01/2019 and we were happy to have almost 60 participants. Before the individual groups could start designing and developing their games, the motto – "What home means to you" – was revealed in a live keynote.
Multicultural worlds and run-away cats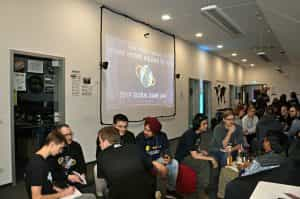 As always, the motto left a lot of scope for interpretation and the teams designed nine completely different games. In "The way back home", players fight their way through four different worlds which correspond to the home countries of the international developer team. "Go, Cat" challenges players to get a run-away cat back home and to protect it from approaching cars as well as from space dogs which await the cats in a special level. The game "Everyday Kitchen" went off in a completely different direction. Meals have to be cooked as quickly as possible by following a recipe. All these games include lovingly designed worlds and carefully chosen music and sound. Each team member can use his strengths and talents to turn the game into something special. After exactly 48 hours, the completed or semi-completed games are put online. The results are then presented to colleagues. This year, nine unique games were created which can all be played here.
If you're interested in the detailed process of the GGJ 2019 in Ansbach, you should definitely read this report by Ramesh, GGJ participant and Tradebyte team member.
A platform for tech enthusiasts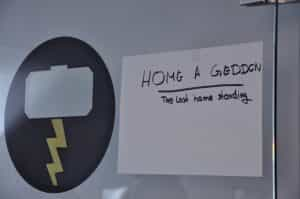 The Global Game Jam unites "Innovation, Collaboration & Experimentation" – those are the exact same goals we have at Tradebyte. By organising the Global Game Jam, we want to give tech enthusiasts the opportunity to try out new things, have a creative exchange with others, have interesting chats and have a great time. We want to create a platform for exchange and learning. We do this by organising the annual GGJ, but also with our monthly /dev/night. This event, which takes place in the Tradebyte office on the second Tuesday in every month, is not just addressed to software developers, but also system operators and all kinds of interested techies. After an informal presentation about a topic previously decided on by the community, and to which everybody can contribute, small teams try out and implement the topic in practice. Accompanied by pizza and mate, lots of ideas have been tried out right there. You can sign up via Meetup and it's free of charge.
More information about future /dev/nights and the next Global Game Jam can be found on our /dev/night Twitter channel and here.