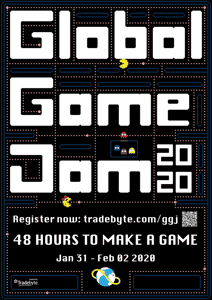 From January 31st – February 02nd 2020, the Tradebyte office will be the playground for fans of game developing! For all of you who do not know what the GGJ is: In 48 hours people from around the world come together and develop cool games to a specific motto. Participants don't have to be professional developers. Everyone can be part of the GGJ: creatives, graphic designers, organizers, musicians, artists. All of you are welcome!
There will be free hoodies for the first 30 registrations again and of course we will provide free food the whole weekend.
Here you can register for the Global Game Jam 2020.
In the meantime you can take a look at the recap of the GGJ 2019 or just check out the story highlight "GGJ 2019" in our instagram @inside_tradebyte.
We are looking forward to a weekend full of fun!