In addition to our innovative SaaS solutions, we offer our customers all-inclusive service opportunities consisting of many different services, e.g. Mapping Service, Consulting or Partner Management. What advantage can we offer with our Added Services? How do we accelerate success? Andreas Hummel, Head of Added Services at Tradebyte, answers our questions.
Tradebyte: Hello Andreas, can you please explain to us what exactly Added Services at Tradebyte is all about? What are the teams/mission behind it? What services do we offer our customers in addition to our software solutions?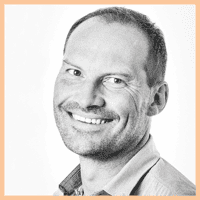 Andreas: Sure, I'd be happy to. For Tradebyte, the term "service" is synonymous with "solution to success". Thus, "Added Service" is the promise to our brands and retailers to provide additional success. Tradebyte is best known for its SaaS technology TB.One and TB.Market. Successful e-commerce is not just an IT project, it has many facets - fulfilment and assortment management, product presentation and pricing, marketing strategy and controlling - to mention a few examples. With our competent Consulting team, targeted training offers, professional catalogue services, and our strong partner network, Tradebyte is the qualified partner for the development of a targeted e-commerce strategy. Of course, this also includes its rapid implementation and successful sales development in the marketplace business.
You are still quite new at Tradebyte and you have many fresh ideas for the Added Services team. What did you do before Tradebyte and how do you incorporate previous experience into the ADS team?
I am 50 years old and have been involved with e-commerce for almost 25 years, even if everything was called slightly different at the end of the 1990s. Nevertheless, the development of Direct Shipment, Longtail, and the marketplace idea (and much more) started during this time. As an experienced salesman, the question has been driving me ever since: "How will retail work in the future and what do all parties need to successfully master this change? I follow a o pragmatic approach and over the years I have not only dealt with "clever theories", but first and foremost with feasible solutions. Whether it's a complete omnichannel solution for small retailers that can be ordered online in self-service with a few clicks or individual projects for international DAX corporations, one thing is always the same: the biggest challenge is to keep it simple.
My claim is to pour this experience into services that allow all our partners to move forward on their individual path.
When are our services helpful for our customers? Can you describe a "standard use case" for us? What are the most common challenges customers can face?
Whenever our customers would like to have support. On the e-commerce path, everyone has their own individual challenges to overcome. There is no "standard use case".
However, if a customer asks himself the following or similar questions
What is my e-commerce strategy for my products and goals?

What are the right marketplaces and markets for me?

What technology do I use best and how does it fit into my IT landscape?

Where do I find the necessary partners and tools for my success?

Who will take care of my article data and ensure that it meets the marketplace requirements and is found?

Is there a partner who will accompany and help me on my e-commerce journey?

Why is everyone talking about channel-specific marketing and trade analysis?
… then Tradebyte's services are certainly the right solution. And by the way, it's often supposedly only "little things" that unnecessarily cost time, money and success. Therefore, it is better to ask once more than not at all.
Do customers who use the Managed Account Service have a fixed contact person in your team?
Yes, of course, that is very important to us. An "I" and a "you" can never be as successful as a "we". A common understanding of expectations and goals. An aligned operational approach. A common understanding of the individual opportunities and needs of each brand. All this is part of the foundation for success and is also much more fun.
In what timeframe can you implement which projects and what does that mean for customers in terms of price?
"Planning is half the challenge" or "Just do it? Which one is true? Certainly both. Highly automated processes and professional consulting support require good planning. But we are working just as hard on standardisation, as in our "7-Day-Challenge", which makes products visible on the marketplace within a week. When it comes to pricing, it's very important to us that we communicate transparently about the service scope. However, besides the price, the value of the service for our customers plays a huge role. So you should not only ask yourself "what's the price?", but also how much impact it has on your revenue afterwards.
In addition to the classic services, you have been working on another exciting project in the last few months, which should enable service providers and channels to easily onboard. Can you already reveal more about this?
With our self-service guide TB.IO, we make it possible for everyone, no matter whether brand, retailer or partner, to connect to TB.One independently. Different use cases guide the user through our API documentation. We recently revealed more about this in another article.
What is your vision for the future? Can you tell us what services are planned for the future?
My vision is: EVERYONE can do e-commerce - and it's easy! Hence Tradebyte's service offensive. On the one hand, we will significantly expand the services that our customers already appreciate today. Especially with our catalogue services, we will further shorten the TTO (Time-To-Online) with intelligent technologies and greatly expand our offers with regard to content enrichment. On the other hand, the new offers will be exciting for our customers. I am talking here, for example, about customised consulting formats for quick successes to project-related or permanent support for brands, marketplaces and channels.

We are also focusing strongly on data. These are resources that often remain unused today. We will not only process the data and make them transparent, but also directly increase the GMV with benchmarking and clear recommendations for action. Ultimately, it is about a "full-service approach" that makes Tradebyte THE central partner of the industry. Tradebyte is now consistently taking the path from software provider to service provider, i.e. from the "solution provider" to your "partner for success".

So let us work on your e-commerce success together. You can either contact your Success Manager or write to us at Service@Tradebyte.com. We will answer all your questions about your e-commerce business and work out an individual strategy with you.
Services@Tradebyte.com.
---
You can find more information about our added services here: