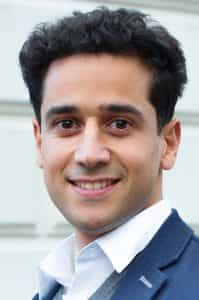 Arvato isn't just the main sponsor of the ECD 2018, but will also be represented by one of the most dazzling characters in the e-commerce business. Armand Farsi, podcast host, digital strategist and formidable presenter, tells us more about his role as Director eCommerce Competence Center at the ECD, his role at Arvato and his take on what THE topics of digital transformation are.
ECD: Armand, the world of e-commerce knows you primarily as the host of your "Commerce Corner" podcast. In "real life", you're the Director of the eCommerce Competence Center (eCC) at Arvato SCM – what are your tasks there?
Armand Farsi: We're the digital commerce consulting team at Arvato SCM Solutions. We help our customers – mainly big brands and retailers in fashion, beauty and FMCG – from the strategic development of digital business models to the growth and optimisation of existing platforms; more and more in omnichannel scenarios just recently and also in the environment of marketplaces which are becoming more important.
Loosely speaking, Arvato as a whole is pretty big. Could you tell us more about Arvato in your own words?
It's true that Arvato as a B2B service provider which acts behind the scenes is active in many areas and can't be reduced to one product. Arvato is divided into four divisions. SCM, CRM, financial services and systems. I work for Arvato SCM and I'm responsible for the "Consumer Products" business area there. We've been developing and operating full-service e-commerce, omnichannel and supply chain management solutions for well-known fashion, beauty and FMCG brands for 15 years. That includes the implementation and operation of the online shops on Spryker, Salesforce Commerce Cloud, hybris and Oxid, the development of mobile solutions, as well as the digitalisation of the POS, the Loyalty Programme, B2B and B2C logistics and shipping, which includes returns management and payment and accounting systems, as well as customer service and e-commerce consulting. And not just in Germany, but internationally; for the supply chain we have, for example, 70 locations worldwide.
Digital transformation is the catchphrase of the moment. The industry is changing completely. Who do you see as the most important driver of development and, in your opinion, what are the most important topics in this large field?
The most important driver is and remains the customers and their need for simplicity and real USPs in a time of hyper-selection and hyper-comparability. Technology enables many applications which used to be unthinkable – especially in a mobile environment. The usual suspects set the standards – think of Uber, Amazon, Zalando, etc. However, just to look at their services and copy them is not a very successful or sustainable strategy in my view. In order to remain competitive in these disruptive times, you should rather be aware of fundamental aspects such as the mind-set (customer centricity and a culture of courageousness), the methods and the organisational structure of such players. And to compare yourself with this: Do you put customer benefit right at the centre? How brave, technologically able and fast or streamlined is your organisation for realising product experiments? How many bets and therefore mistakes do you dare? In my view, these are the real pillars of digitalisation.
This year, Arvato is the main sponsor of the ECD on 3rd May. But not just that: you will personally take on an active role in the programme… Can you tell us more about that?
As you've kindly invited me, I will gladly moderate between a panel of experts. Furthermore, there will also be a presentation about a study which we carried out together with Ernst & Young Parthenon and which we'll publish soon. With real retailer data we investigated which commercial effect can be realised from omnichannel services, as one example. And we've come to some very exciting conclusions!