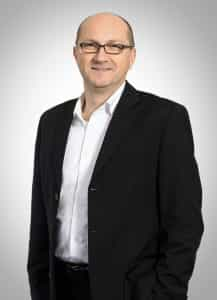 PROCLANE is a certified SAP partner and has been part of the Tradebyte ecosystem for years. 2019 has been a year of significant changes for the integration specialist. Partner Manager Katharina Caracciolo talked to Emil Hadner, General Manager at PROCLANE, about these changes and our partnership.
Tradebyte: Most people still know you as HONICO eBusiness. How did the change of name come about and which services were added in the course of this change?
Emil: It's twelve years since we were founded as part of the HONICO SAP network, and we've long since been doing more than just connecting SAP systems. We offer diverse services. Nowadays, we're one of the leading integrators in the German-speaking area. That's why we thought it was time for a change of name. We haven't changed our range of services because of this. But we're working on two very exciting new developments, which we'll launch next year. It's exciting.
As a long-term Tradebyte partner and SAP specialist you're listed on our website. What can you tell us about this connection and the actual connector?
Our connector is middleware for integrating ERP systems in TB.One. We call it IntegrationMan or iMan. Through this, data from PIM and/or ERP systems of any scale are automatically transferred to Tradebyte at any time.The iMan automatically reads SAP data via function blocks, converts them into the Tradebyte format and then transfers them to TB.One, where they are processed further. Orders automatically take the same route in reverse and are created in the ERP.
What should customers prepare if they work with SAP and want to sell via TB.One? What other tips do you have?
All data which should be transferred via iMan have to be available somewhere. We collect, read, convert and load data, but we don't keep or maintain them. To put it another way: Everything which is displayed, sold or processed in any way has to be available somewhere. The better the customer is prepared, the easier the integration project is.
Additionally, you're a certified SAP partner with the IntegrationMan. What distinguishes you from others in this and, by the way, why isn't it called IntegrationWoman?
The certificates are a kind of "official seal of approval" for interfaces. In so doing, SAP confirms that our integration processes are fully compatible with the SAP infrastructure and the SAP S/4HANA infrastructure. For our customers this means that their system integration is easier than with a non-certified solution. Implementation times and costs are lower. Why is it called IntegrationMan instead of IntegrationWoman? Because it's an abbreviation for IntegrationManager (not IntegrationWomanizer…) But seriously, the English term manager is gender-neutral. All our female and male colleagues are very happy with this name.
In which industries do you feel at home and where do you have special challenges?
You could say that we feel at home whenever e-commerce processes are a challenge. For example, in technical surroundings where products such as accessories have a lot of variants and large amounts of up-to-date information have to be available. Or if we have to implement internationally-introduced sales processes online.
Most companies are already planning the events/trade fairs for next year. How is that with you and where will we meet you next?
We'll especially be represented at our partners', e-commerce companies and shop manufacturers, and everywhere where companies with big ERP systems get information. But you can always meet us at the new offices we have just moved into in the city of Hamburg. We're looking forward to your visit!