Networking, Masterclasses, Lectures & Expo – that's what the K5 Conference stands for! More than 3.000 participants, 150 speakers and 150 exhibitors will come together in Berlin on 4th and 5th of June for one of the most important e-commerce events. And of course Tradebyte must not be missing!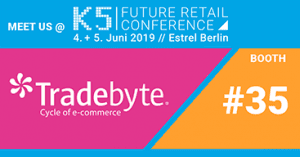 Matthias Schulte, CEO at Tradebyte, will be on the Commercetools Stage at 12:00 noon and talk about »Opportunities & Showstoppers on the Way to Platform Business«.
Ship from Store, Platform Solutions for Retailers, Platform Trends and Cross Border Solutions – we will discuss these topics with you in the K5 Topic Box! On both the first and the second day of the conference, you will have the opportunity to discuss hot topics in e-commerce with Tradebyte experts in one of the Topic Boxes from 10:30 am – 11:00 am and from 4:15 pm – 4:45 pm.
You can find more information about the presentation and the Topic Box in the program. And before we meet at our booth or in the Topic Box on event day no. 2, we'll have breakfast together from
08:00 am – 10:00 am at the Weißwurst-Frühschoppen, sponsored by Tradebyte.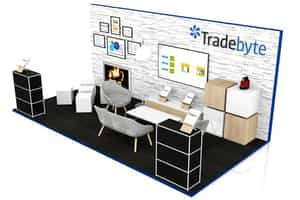 Visit us in the cosy »Tradebyte living room« and inform yourself in a personal conversation about our software solutions for brands and retailers and your possibilities ine-commerce!
Meet us: Booth #35
Would you like to make an appointment in advance? Simply contact your Account Manager or Sales@Tradebyte.com to arrange an appointment. We look forward to seeing you in Berlin.