The Meeting Lounge is still the core of the ECD 2019 and this year it will be sponsored by Tradebyte service partner Meyer & Meyer. We spoke to Hannes Bruns, Sales Manager at Meyer & Meyer, about the values of the family business, trends in e-commerce and why they are sponsoring the ECD.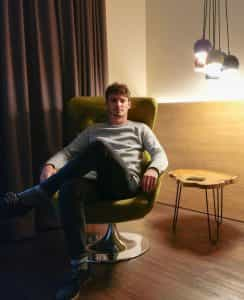 Tradebyte: Could you please describe Meyer & Meyer? What's special about your company?
Hannes: The Osnabrück-based family company Meyer & Meyer is an experienced partner in the fashion industry and supports its customers along the entire textile supply chain – from sheep to shop. As a leading specialist for fashion logistics in Europe, the company offers a range of services from raw goods and production logistics to warehousing, processing and quality assurance through to the distribution of the goods ready for sale in the retail sector or to the end customer. Meyer & Meyer manages and interconnects the added value chain with the help of modern IT technology, and, together with its partners, also offers intelligent omnichannel solutions. If you ask our customers about their relationship with Meyer & Meyer, they talk about collaboration as equals. We attach importance to quality, innovation, fun, trust and respect. Some of these values are surely based on the fact that we are a family-run company.
What current trends do you see in the industry and how does that fit in with the ECD?
As a partner in the fashion industry, we deal with the same trends and challenges as our customers in the fashion trade and in e-commerce, and they are the visitors of the ECD: That includes the interconnection of bricks-and-mortar and online trade and therefore the interconnection of B2B and B2C business, the supply of all sales channels from stock as well as the question of which omnichannel model fits with which business model. Furthermore, we keep an eye on the developments of the fashion industry, such as the collection cycles which are becoming shorter and shorter and the near-sourcing trend. As a logistics service provider, we're also interested in how logistics and e-commerce processes can be supported by robotics or artificial intelligence.
You're not just the sponsor of the ECD Meeting Lounge; you're also giving a presentation in the Best Practice Slot. Why did you decide to do that and what are you looking forward to most?
The ECD is a great opportunity to present ourselves as a real fashion partner to the decision-makers of the digital fashion trade. The Meyer & Meyer world is directed more strongly towards B2C business than ever before and is going to grow. We want to offer the best solutions to our customers and also participate in it ourselves. That fits perfectly and we're looking forward to many interesting conversations, exciting presentations and one-to-one meetings.
How would you describe the ECD in three words and what are you expecting from this event?
(It's) not another trade show. Instead: great people, exciting topics and new challenges!
How do you feel about the partnership with Tradebyte? What would you like from this collaboration for the future?
In our partnership with Tradebyte, we're on an equal level. We're getting to know each other better and better and understand which customer problems and wishes can be addressed by our companies. Together with Tradebyte, we would like to help brands enter the marketplace business without much effort – and, in doing so, remain as flexible and independent as possible. We see Tradebyte as an important component and added value in the Meyer environment – for new customers as well as for existing ones.
Meet Hannes and his colleagues from Meyer & Meyer at the ECD 2019 at Wappenhalle in Munich on 21st May.
Get your ticket now!