PVS Fulfillment Service is one of the leading fulfillment service providers for e-commerce in Germany. The PVS Group can look back on 25 years of success which makes it the market-leading medium-sized company with a strong network in the biggest European countries. A full service is offered to the customers, consisting of e-shop, finance and logistics service as well as product and customer care. At six locations in Germany alone, with altogether roundly 100,000 m² logistics area and more than 1,000 employees there are 25,000 product consignments handled every day.
Luisa and Anna at PVS Fulfillment Service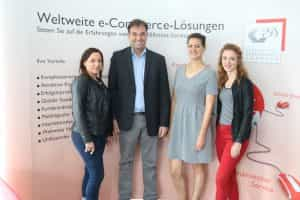 Nadine and Andreas welcomed us to the Partner Experience Day on 11th of July in the headquarters of PVS in a futuristic architecture to start with a talk about the scope of services, joint cases and our cooperative relationship.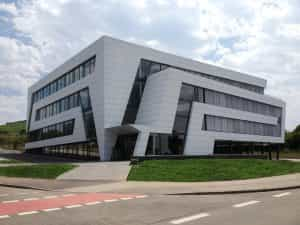 PVS does – just like Tradebyte – have a lot of customers from the fashion industry because it can ensure a professional handling of textiles with its subsidiary PVS Fashion Service. This extends from a quality check to repair work till down to the finishing. Even in the lifestyle and beauty industry, PVS offers its customers a logistical setup which meets even the most individual requirements. This works even beyond Germany's borders because 60 percent of the customers request an international processing. These processing is e.g. handled with a multilingual customer service or with a solution for the customs clearance in Switzerland. After this interesting exchange we had a tasty lunch in the historic city centre of Neckarsulm in order to be strengthened for a warehouse experience.
In Neckarsulm, there is also the founding warehouse of the PVS group which was opened in 1991 already and was by then one of the highest high-bay warehouses in Europe with 30 meters.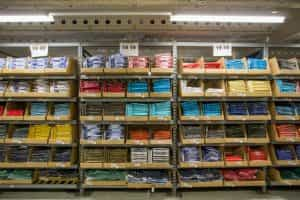 At that time it was called "Presse Versand Service" and handled e.g. the shipping of video tapes and thus ran B2C logistics from the beginning. PVS grew flexible with its customers and convinces now, 25 years later, with wide e-commerce know-how in the setting of B2C and B2B as a successful business group.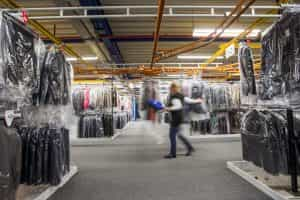 That made it especially interesting for us to find out how particular requirements of the modern e-commerce business are met. Therefore Andreas lead us from the receiving via the pallet and tray warehouse with a capacity of 2,000 pallets and 14,000 trays to an air-conditioned room where chocolate is stored at constantly 18 ° C. After that we visualized the logistical transaction of our joint customer Betty Barclay and followed the process from commissioning of hanger and packaged goods, its merger and packing and of course also for the marketplace business. We really were impressed of how much effort is put in the personalisation and individual packing for clients additional to all the classical logistic processes. This showed us all the more that the issue fulfillment can be realised individually for every customer request and with all the facets of e-commerce by the service partner PVS.
Interview with PVS: Andreas Kreickmann, Head of Sales
Tradebyte: PVS initially stood for "Presse Versand Service" – how did this lead to a focus on fashion and lifestyle fulfillment?
Andreas: In the 90s we started to ship premiums to end customers or magazine customers. Subsequently we got involved in the support of mail-order companies and thus we grew organically into the e-commerce business. The section for fashion and lifestyle products turned out to have a very high affinity for online business and success. Exactly the right thing for our customers and us!
The PVS Group offers a strong network in Europe – which market does currently show the most interesting development?
There are different focuses for that. Our home market is still growing while the UK is very ripe. There are interesting developments in Austria and Switzerland where we have been active for about two years now with our PVS Scherrer AG and where we offer matured solutions to our customers. The Italian market, where we run a subsidiary, is on the ascending branch.
What do the brands and retailer estimate most about your complete solution for e-commerce?
First of all we as the market-leading, international operating medium-sized provider offer innovative services (B2C & B2B) which we can – because of our fast decision-making power – realise promptly and non-bureaucratically. That's why our services always have to be seen as modular, which means we offer brands and retailers the solutions they really need and can add further services or countries anytime.
With 20 years of company existence PVS has seen a lot of service providers come and go. What do you think is the secret of your long-standing success?
Permanence, credibility, innovative strength and investment opportunities – but most of all the good, trusting and toward growth directed partnerships with our often long-standing customers.
The individual distribution channels often have different requirements on how the goods should reach the end customers. What can, by your experience, be the biggest showstopper here and how does PVS support in that case?
The fulfillment provider needs the know-how and the suitable technique to support the requisite processes as well as the ability to take the broader view and the will to walk new paths. In order to overcome new challenges and offer customer orientated solutions, experience is essential. Our customers are advised proactively and benefit from our long-time expertise.
TrBy what does the long-term cooperation with Tradebyte as a service partner stand out in your opinion?
Our experience with Tradebyte is very positive, on personal as well as on professional level. The operative processes run smoothly with the connection to the TB.One software so that our employees can handle market place orders on the same service level as shop orders without any problems. Additionally, this solution allows us to help our customers to additional revenue without having to block stock. By this the merchants and manufacturers can record all the available distribution channels transparently at any time and be successful with that.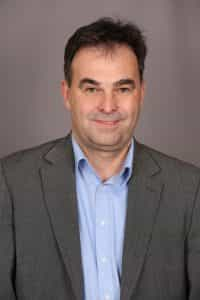 Andreas Kreickmann
Position: Head of Marketing / Sales

At PVS since: 2002

In your freetime you enjoy most: family, playing tennis, spend a nice evening with friends

Personal goals for 2018: go on being successful and forward the PVS Group and our customers without neglecting family and friends