The e-commerce agency best it was founded in Velen in 2000 and has since provided a reliable IT solution/consultation especially for the digitalisation of B2C and B2B business models. The success story from Velen is now being continued with more than 75 employees in Berlin, Freiburg, Munich, Siegburg and Amstetten in Austria.
Through their long years of experience in e-commerce, the founder and CEO of best it, Manuel Strotmann, and his team, have created a stable foundation for more growth. This is mainly on an enterprise level in the project business of the technology industry. And they've had quite a few of these big projects in the past, such as BVB and other football clubs, Penny and many more. That's one of the reasons why the e-commerce environment is unimaginable without best it.
Benedikt and Katharina visited best it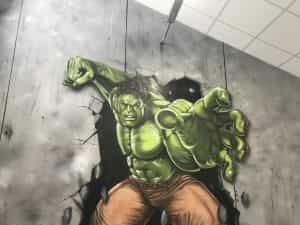 No path was too long, no snow was too deep for the visit to our partner best it ecommerce solutions. So, in these conditions, Bene and I started out to its headquarters in Velen. Once we had arrived, we were welcomed with tea and coffee by Melli and Johannes. In the conference room, we discovered numerous awards which best it can and should be very proud of.
Afterwards, the "tour through the office building" began. Fun fact: best it used to have its headquarters in the office block across the road and its move into the new premises made company history as the quickest move ever. All the colleagues at best it simply rolled across the road on their office chairs. Nowadays, 38 employees work here. The current best it home used to be a trade fair building, afterwards a furniture factory, so the revamp had to be quite creative. In our opinion, it's worked out beautifully. Everything looks bright and spacious, from the staircase, which leads to the management offices and our meeting room, to a spacious lobby. But the highlight was the office of the developers where we discovered some Avengers fans (so they don't just exist in our building in Ansbach, but also here in Velen). A massive Hulk decorates one wall of the office and there are many Star Wars & Avengers accessories. These super heroes aren't just in Velen, but in all of the other best it subsidiaries as well e.g. Siegburg (Batman).
What exactly do the best it super heroes do?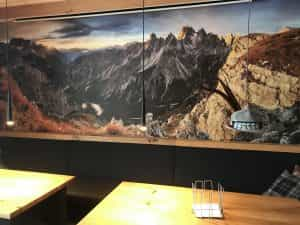 They work on digital strategies, consulting, design & user experience, system & process integrations, and the connected support. Additionally, best it has developed some shop connectors such as the Tradebyte2Shopware connector. The future also looks exciting. best it never stands still as it continually works on new ideas & concepts.Team events of all kinds are also important here, no matter whether it's the "Star Wars Lego Millennium Falcon Challenge", weekly developer meetings or sports events such as Xletix – best it has a hand in everything.Another highlight is the kitchen and lounge which looks like an Alpine setting and creates the right atmosphere for comfortable chats and nail hammering. Of course we also had to take up this challenge …
In the afternoon, we went to the Shopware Partner Day where we could meet several best it colleagues. The great reunion took place one day later at the legendary best it BBQ, the unofficial first e-commerce event of the new year.
Interview with best it: Johannes Terhürne, Director Strategy & UX
Tradebyte: We talked for a long time about what best it has achieved so far and also about their new focus. In your own words, could you explain how this has changed?
Johannes: best it has always been an expert in the area of e-commerce. It started in 2000, when we built the first online shops and it's still true today when we implement enterprise shops for BVB, Intersport or Marc Aurel. What has changed, however, are the specialist requirements an agency has to manage. Where technical support used to be the main demand, nowadays we need to provide comprehensive support for the entire process. One reason for this is that topics are becoming more and more complex and additional fields such as multi-channel, voice and customer relationship management are becoming bigger. In order to meet these changing requirements, we have divided best it into three business areas: strategy, user experience and technology. We have experienced experts working in these areas to support our customers in their challenges as well we can. This allows us to offer our customers tailor-made teams who are perfectly adjusted to the current challenges of customers.
The internet is unimaginable without personalisation. How do you work with this and what could be improved about the user experience?
Personalisation is one of the most important topics we are dealing with at the moment. Thanks to great technical progress, concepts which were science fiction a few years ago are possible today. And there's more: Customers expect personalisation nowadays as they're used to algorithm-based suggestions from different applications such as Instagram, YouTube and other platforms. And now applications such as Voice also require personalised results in order to offer a genuine added value to users. It's important to know that personalisation isn't something you just do once. If you believe that you can work out a concept once which will then work successfully for the next two or three years, you're thinking too short-term about the topic. In our view, personalisation should be compared to a marathon, not a 100-metre run. That might sound like an uncontrollable process, but it's the opposite: Through a step-by-step, test-driven process customer needs can be discovered and the goals can be optimised. Therefore, we achieve a measurability of parameters and can prove quite clearly that personalisation really works.
You've been in e-commerce since 2000. What do you think has changed in the last 19 years and what do you see as the biggest challenge?
The complexity of the projects and therefore also the standing of e-commerce in companies has definitely changed in the last few years. A few years ago, our brief was usually "Build us an online shop". Through more and more complexity due to topics such as multi-channel, Voice and personalisation, the brief has got much more extensive. "What do I need to do today in order to remain successful tomorrow?" is what we hear more and more. And based on this brief we look for strategies and solutions with the customer in order to fulfil these requirements.
The view of "what makes employees happy these days" has also changed. How have you tried to adapt? What do you think are the key factors for keeping the employees of today happy at the office for a long time to come?
Things such as free drinks, flexible working times and participation models are no USPs for companies anymore, as all of the companies offer these. Especially in e-commerce, good employees are in a very comfortable situation and can pick and choose which job they would like. In order to keep employees in the long-term, I believe you need to offer enough space for development and especially ownership and co-determination. Generation Y and the future Generation Z cannot be convinced by money and other benefits alone, but want the opportunity to create something they support and where they can be creative. We want to offer employees the opportunity to develop intrinsic motivation which encourages and challenges them in order to show long-term potential.
Of course you'll be a sponsor at the ECD again this year and you'll introduce an especially interesting case. Can you tell us anything about that?
Of course we'd like to keep suspense. But I can already tell you that this time we'll talk about fashion and show how a successful platform strategy between your own shop and different marketplaces can be created. It's definitely worth a visit when we take a close look at successful e-commerce projects together with our long-term partner Shopware!
How did you get the idea for the BBQ event? And did you ever expect that it would go down so well to the extent that it has now become THE kick-off event in e-commerce?
The BBQ was a pretty mad idea. A few years ago, we started it with a few partners and friends on the balcony of our old office. Now, the BBQ has developed into perhaps THE e-commerce reunion at the beginning of the year. The secret recipe is probably that you can chat about what's hot in e-commerce in a totally relaxed atmosphere with great food and drinks. Our motto is "you can do everything, but you don't have to". We give our customers and partners the opportunity to make contacts in e-commerce and talk about challenges together. The feedback has been very good for years and we're already looking forward to the new event at the beginning of 2020.
Johannes Terhürne

Position: Director Strategy & UX
Bei best it since: March 2017
Personal Goals 2019: More Sport with strategy and database
What are you like the most in your free-time? Going to concerts with loud guitars or watching a game in the stadium.