Shopware is known as one of the leading shop system providers and has been an official Tradebyte Technology partner since 2014. With our partnership, we offer a convenient all-round package to Tradebyte customers who are using Shopware for their online store. For the exchange of data between Shopware and TB.One, our common partner best it offers a dedicated connector that is currently available for Shopware 5.
We highly appreciate the partnership with Shopware and are always happy whenever we can meet at an event such as the annual best it barbecue in Siegburg. Since the newly modernized Showpare headquarters are right around the corner in Schöppingen, we took the opportunity to visit the Tradebyte Technology Partner on their campus. Shopware and Tradebyte have been friends for many years – it was about time for a visit. We took this chance to talk about the collaborations planned for the future.
Partner Experience at Shopware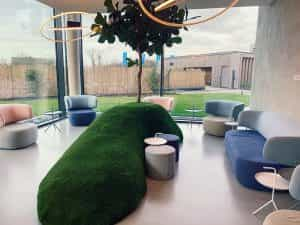 On the morning of our visit, we were warmly welcomed to the campus by Shopware's Partner Manager Marc. We immediately marveled at the beautiful modern offices. When walking around the Shopware Campus, it quickly becomes clear that the motto »Open, Authentic & Visionary« is a common thread that runs through the company, not only regarding its products but also its corporate culture and the architecture of its headquarters. Shopware is celebrating its 20th anniversary this year, and the two brothers and founders, Sebastian and Stefan, are still actively involved. For them, standing at the barbecue to reward the team for achieved goals is part of the job. But their cooking skills are not the only thing their team appreciates: They constantly promote visions and are open to all suggestions and ideas.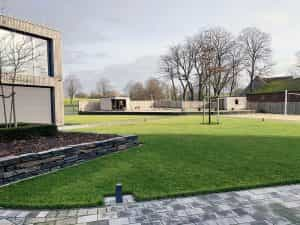 Always one step ahead
»Your freedom to grow« – the team spirit at Shopware is noticeable and one of the reasons for our close and long-standing partnership. To maintain internal communication, Shopware holds a weekly "global breakfast". Here all employees are informed about upcoming projects, innovations, and new colleagues
The Shopware Campus contains a lab, which is a source of constant innovation and is used to develop new product ideas. There, the latest technologies can be tested and serve as inspiration for the further development of Shopware's products. By the way: over 20% of the company's turnover is invested in research & development.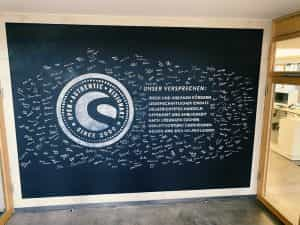 Last but not least – the most important Shopware news
After the big launch of Shopware 6 at the SCD last year, the feedback and curiosity of Shopware users were immense. Shopware has been completely redesigned for its sixth iteration and now features a modular design and the possibility to define custom rules.
Shopware 6 focuses on the customers and their different requirements. During development, the needs of the Shopware community were taken into account. As always in the Shopware universe, customers are counseled individually. Therefore, Shopware 5 may be considered more suitable than the latest version for some customers. Shopware 6 stands for neutrality, increased flexibility, and less complexity. It offers users intelligent marketing solutions, SEO, the ability to internationalize, dynamic product groups, and much more.
Interview with Marc Neururer, Partner Manager at Shopware
Tradebyte: Shopware is not only a shop system. It also offers plugins and an App Store, which contains numerous expansions. Maybe you can tell us more? How exactly does that work? And which apps/expansions are most popular?
Marc Neururer: With Shopware, we follow the philosophy of offering merchants the freedom they need to actualize their growth potential. Since this potential is different for each retailer, we want to enable all our customers to design their projects according to their own ideas and to realize individual requirements. Our Plugin Store is, of course, a good starting point. Currently, retailers can choose from over 3,500 expansions, so it is difficult to categorize what works best. However, we can say that the Shopware premium plugins, which are developed and maintained by our staff, are among the most successful.
The community is also a big topic for you – are there chat rooms, or do you work with blog posts? What is the connection between the community and product development?
We have a forum where users can provide feedback and exchange ideas with employees and each other. This feedback then flows into our products. We try to be as close to our community as possible, and I think we're doing that quite well. If you ever have the chance to attend a Shopware Community Day and soak up the atmosphere, you will realize that Shopware's concept of community is very special.
Shopware 6 is a completely new product – what happens to customers who are still using Shopware 5? Do they have to switch? And if so, when?
For Shopware 5 users, there is no need to worry. The Shopware 5 line is a very stable, proven, and powerful e-commerce solution. Even after the release of Shopware 6, Shopware 5 will be developed further and will see long-term support for five years. This means that its users will have an extremely powerful system for a long time to come, and always have the chance to upgrade to a new and ultra-modern e-commerce solution.
You are a partner manager at Shopware, and our companies have had a fruitful partnership for a few years now. What defines a successful partnership in your opinion, and what do you appreciate about Tradebyte?
For me, a good partnership is sustainable, interactive and fair. As long as both sides always keep the common goals in mind and are able to react to outside influences with relative flexibility, all signs point towards a valuable partnership. The partnership with you is a very good example for this.
Marc Neururer
Position: Key Account Manager Technology Partner Germany

Favourite animal: Tiger

In your free time you like to do the following: Sports – I am a passionate handball and tennis player

Personal targets for 2020: Health