The PHOENIX MEDIA Tradebyte connector module forms the interface between Magento and TB.One and combines product management and ordering. Both PIM and OMS operations are supported. The new Tradebyte connector for Magento 2 is now available for retailers. Lea Hildenbrand, Head of Project Management at PHOENIX MEDIA GmbH, provides you with all important information in an interview.
Tradebyte: What have you improved compared to the old connector? Can you tell us more about the new features?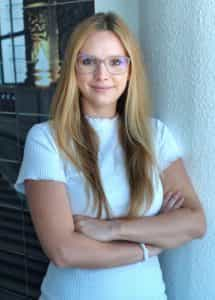 Lea: The old connector was used in a large number of projects and has grown historically over the years due to a high number of specific customer requirements. Over the years it has been extended functionally, which on the one hand increased the usability requirements. On the other hand challenges have arisen with regard to the overview of the configuration area.
With the new M2 connector we want to give the retailer a much stronger hand in module configuration and documentation.That is why we go for clear labelling and for selection options. This is realised in the configuration interface of the respective leading systems in the areas of PIM and OMS. So the retailer only has the options that he needs in this step to complete the configuration – in addition to the general configuration section in the individual PIM and OMS. And of course, the connector also offers important functional enhancements such as user-defined handling of attributes, flexible storeview assignment of order data and product translations as well as support for TB.Cat 1.4 and additional workflows (delivery notes, messages, etc.).
Support for Magento 1.X is now expiring. So it would make sense to switch to 2.X right away or what do you think?
Lea: Right. The last updates and security patches for Magento 1 were released in June 2020. The ending of the support for Magento 1 was already communicated by Adobe/Magento two years ago, so many retailers have already prepared themselves and either migrated to Magento 2.X or are currently running a migration project.
Our recommendation as an Adobe Gold Magento Commerce Solution Partner is to migrate very quickly.
How quickly can such a change take place and what do customers need to be aware of?
Lea: As far as the migration from Magento 1.X to 2.X is concerned, it is difficult to define this in a general way. It always depends very much on factors such as the complexity and requirements of the project. If we assume a standard Magento project without major customizations, interfaces etc., a migration can be done within 2-3 weeks. However, since Magento projects usually have a high degree of customizing, this is not the average project process.
What do you appreciate about the close partnership with Tradebyte, which is further intensified by the new connector?
Tradebyte has supported us optimally in the implementation of the new Tradebyte connector for M2 and was always available for a close exchange on module development and all related topics like documentation, testing, etc. Our contact persons at Tradebyte always had an open ear for questions and suggestions and there was always proactive input. In addition, Tradebyte attaches great importance to transparency and documentation in order to make the information available to all parties involved, for example via recorded webinars, additional info sheets, etc.
It is obvious that you have put a lot of heart and soul into this project. What were your biggest hurdles and what was especially exciting?
As is often the case when you completely rework something, the biggest challenge was to break up the old structures and approach the topic in a fresh way. But this also allowed us to question and re-evaluate many aspects, such as individual functions, their positioning in the module configuration and the general necessity. Our highlights were the re-structuring of the new configuration interface as well as the high flexibility due to the even closer logical integration with TB.One and the separation of logical process parts in the module. This way we are extremely flexible in terms of changes in the end result. We were also able to include final adjustments in the module configuration without any major integration and testing effort shortly before the release was completed. This is also a great advantage for future adaptation requests by the retailers.