In the jubilee year of the ECD, there are a number of exciting innovations, for example a new main sponsor. We were able to gain Spryker for this. ECD visitors can look forward to an exciting, interactive presentation by the software company in the Deep Dive Slot. In an interview, we talked to Patrick Kleine-Albers, Industry Partnerships Director at Spryker, about the strong growth of the company, developments in e-commerce and sponsoring the ECD.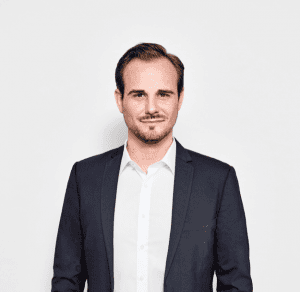 Tradebyte: Hello Patrick, we're delighted that Spryker is the main sponsor of the ECD this year. Could you please briefly describe in your own words what Spryker does?
Patrick: Thank you, the pleasure is all ours. Spryker in a nutshell – with the Spryker Commerce Operating System, we offer our customers a comprehensive solution for B2B and B2C business models. But we're more than just a shop system. Our special focus is on a fully-modular, API-first and headless structure. Through the opportunity of full technology ownership, the B2B Suite as well as the B2C Suite can be adapted 100% individually to the requirements of our customers. We offer an effective tool for the complete digitalisation and flexible scaling of digitally-aligned companies. We seem to get that quite right. We are amongst the strongest growing software companies in Europe.
Where does Spryker see current trends in the e-commerce industry and, in your opinion, how does that fit with the ECD?
Our industry is constantly changing and it's still exciting which new possibilities for differentiation are created for competitive vendors through the internet of things. For B2B customers, for example, automated ordering possibilities mean more efficiency and convenience. Another topic is online marketplaces. I'm convinced that they will also experience an enormous growth in the future and vendors as well as end customers will be offered new opportunities. Amazon has shown how it's done and Zalando has successfully transformed from an online mail order company into an online marketplace. Further development into a marketplace isn't just an advantage for the operator who has the customer relationship and customer access. The vendor also profits from additional reach and the end customers can help themselves to a bigger selection of products and services. So, it's a real win-win-win situation.
This year, you'll be an ECD sponsor for the first time. What exactly convinced you and what are you most looking forward to?
Last year, we experienced the conference directly on location and found that the ECD is now one of the most important events in the industry. We're therefore very much looking forward to exclusive one-to-one meetings, interesting conversations with the who's who of the e-commerce industry and inspiring presentations.
What do you expect from our future partnership?
Tradebyte fits perfectly into our ecosystem. What connects us especially is that we have the same approach in the area of modern commerce technology. We complement each other in terms of agile development processes and IT productivity. We mainly see synergies potential in terms of customer contact. Our solutions portfolio expands through the partnership and therefore provides our customers with added value in order to handle the challenges of the digital world.
Wir danken dir für dieses Interview und freuen uns auf einen großartigen ECD 2019 mit Spryker an unserer Seite.