MS Direct, sponsor at the ECD once again this year, enables brands and retailers trouble-free entry into the Swiss e-commerce market through intelligent cross-border solutions. Every month, MS Direct processes more than 700,000 customer contacts and 300,000 parcels and provides a storage area of 21,750 square metres. With MS Direct, the leading overall provider in customer relationship management and e-commerce, Tradebyte has had a strong partner at its side for many years.
Partner management on tour – Luisa and Anna at MS Direct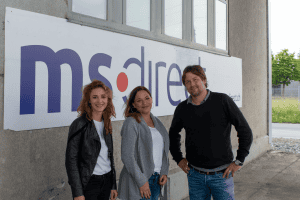 The kick-off for the Partner Experience Day took place in Zurich as part of Digital Commerce Night on 23rd May where we could mingle with the greats of the Swiss e-commerce market. On the next day, Peter Egger from MS Direct invited us for breakfast in the idyllic old town of St. Gallen. Inspired by the so-called Gipfeli (for anyone who's not from Switzerland: butter croissants) and Swiss cheese, we had an intensive brainstorming and developed a variety of great ideas within the collaborative partnership (stay tuned: you'll get more info soon).
Refreshed, we started with our warehouse experience in Arbon on Lake Constance. Peter took us through a complete returns process including special case processing. The warehouse opened three months ago and a total of 115 employees in two shifts at 80 return points document the returns from Switzerland in the Zalando system and prepare the articles for recustoms clearance and return to the Zalando warehouses in Germany. Back in St. Gallen, where the headquarters and another returns warehouse are located, Peter gave us a better understanding of this process, also regarding our mutual customers such as Planet Sports, Surf4Shoes, Outfitter, Hallhuber and Ivy & Oak, whose returns from Switzerland are usually processed within one day. A logistic tour de force.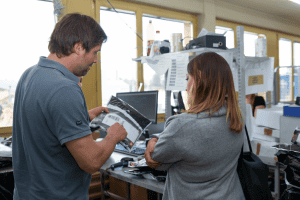 The logistics centre is also the destination of many shipping companies, who have their goods delivered from abroad every day and have them cleared through customs. Peter provided insights into the process, in which the employees of the customs department produce the necessary documents for customs clearance of the articles directly within the system of the Swiss customs authorities within 15 minutes. Once this has been completed, the goods which have already been commissioned and packed abroad can be transported to the parcel centre of the Swiss post and delivered to the end customer. MS Direct doesn't touch the parcels again, but they are fed directly into the hub of the Swiss post around 500 metres away.
After a great day with interesting input, many impressions and a lot of new faces, we can say with conviction: Thanks to intelligent cross-border solutions, selling successfully on the Swiss market doesn't have to be an impassable obstacle.
Interview MS Direct AG: Peter Egger, Senior Solutions Sales Manager
While visiting Switzerland, we took the opportunity to ask Peter Egger a few questions about MS Direct, the "special situation" in Switzerland and our partnership.
Tradebyte: Peter, MS Direct AG describes itself as a full-service provider, an overall provider of customer relationship management and e-commerce. What exactly is your task in this cosmos?
Peter Egger: I'm responsible for sales and e-commerce and logistics solutions at MS Direct AG. I'm part of a four-person team which works on the front line every day. On the one hand, we support customers when it comes to the complete outsourcing of warehouse logistics. We do this at our warehouse locations in Switzerland and Austria using MS Progress, a backend solution based on Microsoft Navision which was especially developed for this. Generally, I travel in the neighbouring countries every day to inspire brands and shops (also from the Tradebyte cosmos) to enter the Swiss market. With this, customs and VAT topics are usually top of the list. Through our expertise and experience, we try to support the shops with these complex topics. However, the focus is always on the end customer in Switzerland, who likes to receive the parcel through a local carrier, with customs and VAT sorted out, and to use a local returns solution.
Switzerland's "special customs situation" in Europe isn't just a particularity, but also a great challenge for many e-commerce companies – cross-border solutions is the key term here. Which special solutions do you have on offer for this?
We offer holistic solutions to accompany a brand or a shop when entering the Swiss market. For example, this includes all the paperwork concerning VAT and customs. Our customers receive their own VAT number and their own customs account. Then, we look for the right carrier for each individual case. From the shipping company to parcel delivery in Switzerland, the customer gets everything from one source. It's important that MS Direct AG is independent of carriers and always tries to find the right solution for the customer. The central point is effective customs clearance procedures in the EU and in Switzerland, once the goods have physically been delivered to the warehouse.
Ultimately, it's all about offering the end customer of our shops a solution they can use with ease. But we also always try to do a bit more than just that and help the customers on the basis of our knowledge and network to establish a sustainable business in Switzerland. The sales channel usually plays a decisive role in this. Through our integration into Tradebyte TB.One, we naturally have many options and can offer the brands a few platforms as sales channels in addition to their own shop.
In your opinion, what distinguishes the collaboration with Tradebyte – after all, MS Direct has been successfully working together with Tradebyte for many years…?
For me, there are several points. On the one hand, the Tradebyte and MS Direct solutions complement each other perfectly, when making the Swiss market attractive for a brand. For this, we need the platform, or respectively, the channel, but of course also the right logistics solution for the country. Furthermore, it's also a matter of company culture. Both companies actively participate in the partnership in an ideal way. There's great trust which helps so much when tackling and implementing topics and projects together.
Growing European e-commerce needs more impulses and innovation. But especially: exchange between individual partners! You're planning something together with Tradebyte, aren't you? Could you give us a few insights?
At the moment, we're in the middle of planning an event in Switzerland in the coming autumn/winter. It's going to be about showing brands different options about how the attractive Swiss market can be managed. Of course the topic of overcoming the logistic and legal obstacles will also be a topic. But we'd mainly like to show that little Switzerland in the heart of Europe is often underestimated and the market can offer great potential for brands and shops from the whole of Europe. There'll be more information very soon, I can promise you that.
Zalando will soon offer ZFS for Switzerland and Digitec Galaxus has just opened the EU hub. What exactly differentiates the service of MS Direct from the other two solutions?
Naturally, the question is very exciting as there's a lot of movement in the market at the moment. Amazon is knocking on the door and in the autumn of this year it'll bring out a collective customs clearance solution for Switzerland. That's due to an important change in the law for 2019, which states that parcels with a value of goods under 65 Swiss Francs have to be declared anew – from a minimum turnover of 100,000 per year. Galaxus is winning prize after prize and, as Siroop has withdrawn, is currently the leading platform in Switzerland. The company has opened the EU hub in Weil am Rhein. There, German retailers can send in their parcels, Galaxus takes on the complete handling (customs clearance and shipping). We see this development very positively, as the Swiss end customer will be offered a big part of the so-called longtail in the future and the market will gain even more popularity. We think that the Galaxus and ZFS solutions are optimal additions to our existing solution. This will make it easier for small retailers to ship to Switzerland in the future. And these solutions offer the option to grow further via well-established platforms.
Peter Egger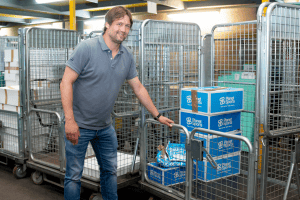 Age: 43

Position: Senior Solutions Sales Manager

At MS Direct since: 01/09/2008

Personal goals for 2018: Finding the balance between work, family life with two small children, sports and social surroundings – and doing so with joy and a positive attitude every day! In addition, there's a "small" project on the side this year: buying a house including rebuilding and moving in with the whole family.

If you're not selling your solutions, you like to…: spend time with the family, play football and tennis, meet friends, travel and get to know other cultures.