Seven Senders connects online retailers and local parcel delivery services via intelligent B2B solutions across borders to deliver the goods of the online shops to other European countries cost-effectively.Seven Senders connects online retailers and local parcel delivery services via intelligent B2B solutions across borders to deliver the goods of the online shops to other European countries cost-effectively. This network includes more than 40 different parcel delivery companies across the whole of Europe, and makes it possible to cater to the special features of individual countries. The logistics solution sets new standards for the market. Seven Senders impressed as a Plus Sponsor at the ECD this year and left people wanting more during the Warm-Up drinks the night before.
Luisa and Anna at Seven Senders
On 2nd May, we started on our way to Berlin and visited Seven Senders in "P-Berg" as Prenzlauer Berg
is lovingly known to Berliners. The company was founded 3 years ago and its staff is also young with an average age of 33.7 years. Since August 2017, 80 employees from 13 countries have worked in the hip office, a combination of typical Berlin building located in a courtyard and a modern annex on 4 floors. One special highlight is the big roof terrace. This is the place for after-work barbeques in the summer or tapas and a few after-work beers on a Friday night. After climbing the 76 stairs from the foyer, which comes across like an overseas shipping container, we went straight to Francesco. The Seven Senders coffee machine and the Diva water cooler in the employees' lounge on the 3rd floor ensure that the employees have everything they need. Naturally, a start-up also has a table football table, which hosts games every day.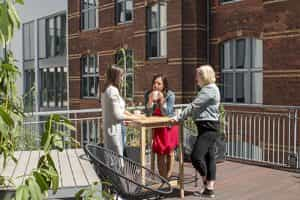 Table football has been elected the company sport, so even the table football world champion visits the summer party and offers tips and tricks for the contestants. Seven Senders should get an award for this team spirit! In fact, they have received awards this year: the Sustainability Award and the Best Logistics Solution Award. Furthermore, Seven Senders is ranked 3rd as the young company tendering the most in the logistics start-up industry.
After our great stay at Seven Senders, there's only one more thing to say: "Congratulations to this success story since founding your company 3 years ago and we hope you'll develop just as successfully in the future! We are very happy to have such a strong partner at our side."
Interview with Seven Senders: Thomas Hagemann and Dr. Johannes Plehn, founder and CEO
Despite the K5 preparation stress (one day before the K5), Johannes and Thomas took time to answer our interview questions in person:
Tradebyte: In the specialist press, shipping is often called the Achilles' heel of e-commerce – why do you think that is?
Johannes Plehn: A certain margin pressure is omnipresent in e-commerce. Especially with a view to unit economics, shipping costs play a decisive role. It influences the profitability of a customer, decisions of internationalisation strategy and even the choice of business model. Furthermore, nowadays customers see shipping as an elementary part of a purchase and it goes into the overall evaluation of the purchasing experience. If the customer is disappointed after the transaction, whether it's due to delayed or damaged goods, he holds the retailer responsible. In the future, he will think twice about ordering again. On the other hand, smooth shipping with an optimal combination of shipping options and customer communication can score a lot of points with customers. The big players of e-commerce especially set a good example with this. In addition, they continuously raise the bar in terms of shipping with a view to an optimal customer experience. For online retailers it's extremely important to close the gap. Shipping has to be seen as a chance to convince customers and to set yourself apart from competitors. But it can get complex very quickly. Despite the connections within the European single market, local market requirements differ greatly which means that expansion in Europe causes a certain amount of logistics costs.
In-depth specialist knowledge is required to identify the right adjustments for each country. The German customer might like pack stations, Swiss customers prefer delivery to the "milk box" and Italian customers love cash on delivery – that makes the choice of the right carrier quite tricky.
You both discovered your passion for logistics very early. What fascinates you about this industry?
Thomas Hagemann: It might sound like a cliché, but how can you not find logistics fascinating? Is there anything in our every-day life that would function without logistics? Mobility for people, for goods, in hospitals, for e-commerce parcels, nothing works without logistics. Funnily enough, we both optimised logistics in the "old world" for years. We improved supply chains and planned networks for industrial companies in different industries. But what fascinated us especially about e-commerce logistics is the existing connection between the physical and digital world.
It's not a connection which had to be developed from the start, the e-commerce industry is digital. We digitalise the logistics of the physical part, parcel delivery at the customer. Comparatively, the data situation in the industry is good, a dream for us logistics specialists. We want to put together, control and orchestrate this data, connect it with innovative approaches and the perfect carrier networks in different countries. On the basis of neuronal networks and AI algorithms we want to optimise data and think aloud about blockchain. You can see that we won't get bored in the future.
Your mission is "we connect merchants with prime last-mile carriers worldwide": What was the deciding factor for your business idea and what makes it unique?
Johannes Plehn: The business idea came while we were both employed at the same company. We realised that shipping abroad from Germany is more expensive and slower than shipping goods over a comparable distance within Germany. Additionally, the tracking result was catastrophic. This problem stopped many online shops even from offering shipping abroad – that's exactly what we wanted to change.
The innovation of our business idea is based on building our own virtual premium network from existing transport networks, which are specialised regionally, but also limited locally, and extending it all over the world. This network will only include the leading and best parcel services and be available to retailers via our delivery platform. That's unique. It gives the retailer all the components (from labels to shipping management through to returns and a tracking system) to connect to more than 100 carriers worldwide with lower costs and a minimum of complexity. With our platform, we offer retailers one single contact point while we remain in the background and invisible for consumers. We put the retailer and its customers into the centre who therefore enjoy delivery via a local specialist.
You are a Tradebyte partner. What would you say is the benefit of this collaboration?
Johannes Plehn: We select our partners very carefully – just like Tradebyte does as well. The basis is that we determined an overlap in our potential customer group. The decisive factor is that we had the feeling that Tradebyte has the same requirements when dealing with people and customers. Tradebyte is an "anchor" for retailers who want to sell via platforms. We from Seven Senders see the future of commerce on platforms. Therefore, Tradebyte is a visionary for us as they recognised this very early on. As well as professional handling and high quality of results, it's important for us that all parties involved want collaboration and like working together. Success comes from the people and through collaboration on equal terms in our daily business. With Tradebyte, this was the case from day one. Meanwhile, we have come a good deal closer together. In this sense, we are looking forward to a close and good partnership in the coming years, with many successful, funny moments and parties at the ECD.
Just like Tradebyte, you also have MS Direct in your partner network. They also offer logistics solutions. How do you complement each other?
Thomas Hagemann: MS Direct has been our partner for the Swiss market for many years. We're an experienced team. With them, we're able to create the perfect logistics solution for Switzerland. We at Seven Senders take care of end-to-end shipping management from the pick-up of consignments to delivery in Switzerland. MS Direct brings great knowledge of the market and expertise when dealing with questions of customs clearance, returns management or fiscal representation. 40 years of experience speak for themselves. And when it comes to the people at MS, the partnership couldn't be better. The collaboration is extremely important for us as both products complement each other perfectly and the synergies enable an ideal shipping solution for our customers. The triad of Tradebyte, MS Direct and Seven Senders is great – and with the Swiss Post for the last step, no wish is left unfulfilled for Swiss customers.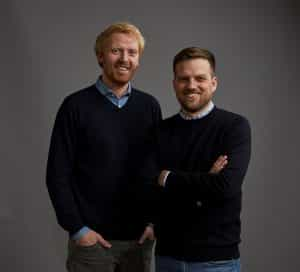 Thomas Hagemann
Position: Founder & CEO

Favourite colour: blue, but not a "Seven Senders blue", rather a dark blue.

In your freetime you like to do: Go jogging and play basketball with the guys from my student days. I love kitesurfing and, if I have the time, do day trips to the Baltic Sea. Next week, I'll go to Portugal on holiday and will visit a festival there, and the rest of the time I'll go kitesurfing again.

Personal goals for 2018: Go on the water more and do more kitesurfing. And that everything stays as it is, as it's all a lot of fun!
Dr. Johannes Plehn
Position: Founder & CEO

Favourite colour: blue, of course

In your freetime you like to do: Go skiing and spend time with my favourite football club, VfB Stuttgart.

Personal goals for 2018: Staying healthy! Otherwise, spending a day on skies in deep snow and, first of all, finally getting over the hangover from this year's ECD.