ZUUMEO is renowned for its professional product photography and content creation in e-commerce and perfectly understands the demands of marketplaces and platforms. For this reason well-known brands, big sales platforms and therefore also Tradebyte trust in its competence, high quality and fast processes. That's why ZUUMEO has been a Tradebyte Service Partner since 2017.

ZUUMEO photographs Galeria Kaufhof's entire marketplace selection – and heypaula also hires ZUUMEO to photo-shoot the brand new collections of a variety of labels.By processing content and enhancing product data with high-quality texts, products can be presented in the right light beside professional photographs. ZUUMEO developed out of the Zalando Group, has been part of Orendt Studios Holding since 2013 and now has five photo studios in Germany. ZUUMEO has more than 80 employees and another 80 freelancers.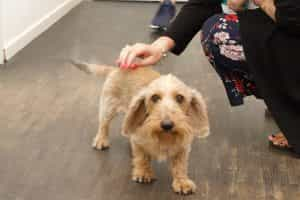 Christmas comes but once a year! That's why we combined our trip to Berlin for the Zalando summer party – aka 10-year anniversary – with a visit to ZUUMEO. We started out to Kaskelkiez in 35 °C on 17th August. From the suburban train station along well-maintained paved streets, we admired the ingenuity of the city dwellers, who keep vegetable plants on their window sills, until we stood in front of an impressive, venerable brick building. ZUUMEO has its headquarters on the third floor of a former factory which produced brakes for lorries. So there's enough space for professional photography equipment and state-of-the-art technology for product photography. There, we were welcomed by Philipp, Timo, Max and Pelle the blond dachshund (the secret boss of ZUUMEO) and invited to a short chat and cold drinks. In addition to Pelle, we met a few other four-legged friends during our stay, who were on leashes and mingled with the employees while adhering to the dog rules. After saying goodbye to the dogs with a heavy heart and many cuddles, we were shown around the premises, went through the entire process of product photography and were talked through the different techniques. We were impressed how flexible and individual the work in the studio is, which is due to the different requirements of the platforms and customers, but also due to the seasonal nature of fashion.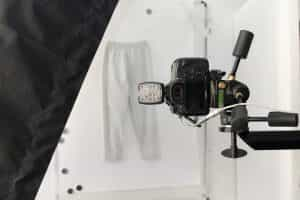 This flexible way of working is guaranteed by a sort of incoming goods process. Here, the EAN of the article and the delivery note is recorded in order to work "chaotically" – meaning that you don't have to stick to a certain order during the following processes. This is realised via an ERP system specifically developed internally for the requirements of ZUUMEO, which enables a transparent production process and localisation at any time, simply by scanning the article. With a variety of possible photography techniques and requirements, the system is extremely helpful to allocate the goods to the order once they have been photographed, and to send them back to the customer once the pictures have been edited, approved and gone live.
ZUUMEO is always there for its customers and always keeps an eye on individual requirements. Therefore, product pictures might be complementary to existing pictures or the studio could be moved to the logistics location of the customer. That means that shooting photos with the background removed can be carried out directly on site and therefore saves the time and cost needed for sending a variety of products to be photographed.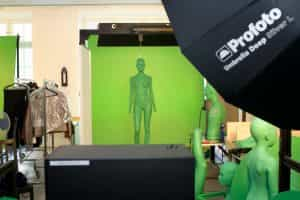 On site, ZUUMEO offers state-of-the-art product photography techniques and is a certified partner of Looklet, which greatly standardises dynamic fashion pictures and makes them scalable. With orbitvu, shoes can be shot within seconds from four angles and automatically cropped. 360-degree pictures can also be taken. Apart from these technical features, classic product pictures with a model, on a ghost mannequin or cube, a sort of pedestal for accessories, can be taken. Naturally, articles are always professionally displayed with the requirements of the sales channels in mind. One thing is clear for ZUUMEO: "The marketplace business offers a lot of potential, also with regard to increasing content requirements. Therefore, we would like to focus more on optimising the speed of processes in the future. With us, the requirements are in our blood and we use synergies due to our history and years of experience."
Interview with Philipp Lingenthal, Director Business Development
Tradebyte: In your experience, which of the big German platforms' picture requirements do brands need the most support with?
Philipp: Keeping up with more and more extensive and stricter guidelines which constantly change. Staying on the ball with this and not extending time-to-online through additional, uneconomic work, is decisive for our customers. As we also work directly for the biggest marketplaces, we are always up-to-date.
In your opinion, what does perfect content on a product page look like?
There is no such thing as perfect content. It's always a combination of 3 main factors/customer concepts: quality, time and price. A premium brand almost 'has to' produce very high quality content or have it produced. But if you look at what's in the Top 100 in the area of fashion at Amazon, they definitely aren't in the Top 100 in terms of picture quality. Instead, the price and time models are very attractive with them. And the picture quality is clearly improving too – which is good for us. Something I would never scrimp on is detail shots: low cost, lots of information.
In your opinion, what relevance do videos have for the marketplace business?
Videos are already very relevant and will be even more so in the future. They are lively, create atmosphere and make a product more perceptible. Additionally, short clips can be perfectly complemented by model pictures. Moderated or dubbed product videos with different perspectives and cuts help with the positioning of a brand and approach types of buyers who want to inform themselves thoroughly and there are hardly any performance barriers on devices anymore – that all seems to suggest a development towards more videos.
How will content and picture requirements on sales platforms develop in the next few years?
We think that the market will become more efficient and content production won't take place in silos so much anymore, but will be managed centrally. We're getting more and more enquiries from customers to produce content for several marketplaces/shops in one go and upload them directly to save time. Hence, the partnership with Tradebyte.
In particular, what do you value in the collaboration with Tradebyte?
The professional and natural way of working together with the perfect balance of seriousness and humour – a wonderful basis for a (business) relationship.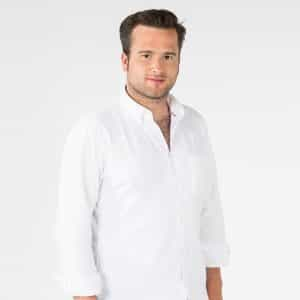 Philipp Lingenthal
Position: Director Business Development

At Zuumeo since: 9:45 Uhr (I overslept)

What do you like to do in your free-time?: Cooking, enjoying nature, not looking at photos

What kind of music do you listen to?: Hands Up, classic rock and a lot of Badesalz

Personal goals for 2018: to be more concise. Get married. Not drink too much at the Christmas party.